Hi I actually came across this site a few times while doing research and I finally figured I'd post my car.  I have a white 97 corolla DX when I first got it it looked like this :\
Bleh..  I didn't like the spoiler so I took it off but had to leave those mounting brackets so the holes would stay plugged.  
I then added projector headlights and a mesh grille.  I also added a Apexi N1 muffler.  At the time I really didnt think id work with the car and I was fine with a muffler but now I wish I had gotten an exhaust.  It came out to look like this.  
For months I was happy with my corolla like this until I started to go to school for automotive technology and I wanted to do more to it.  I bought a used trunk for 20 dollars, sanded, repainted and added a rear lip spoiler to it.  I took out my projectors and put in my stock assemblies to put in HIDS.  I then lowered it on 1.5" racing springs and put on new hubcaps.
Lastly I added a short ram intake bought some drag rims off amazon.  I found out my parents had a thule rack sitting around in the garage collecting dust, so they gave it to me and those are the last things I did to my car.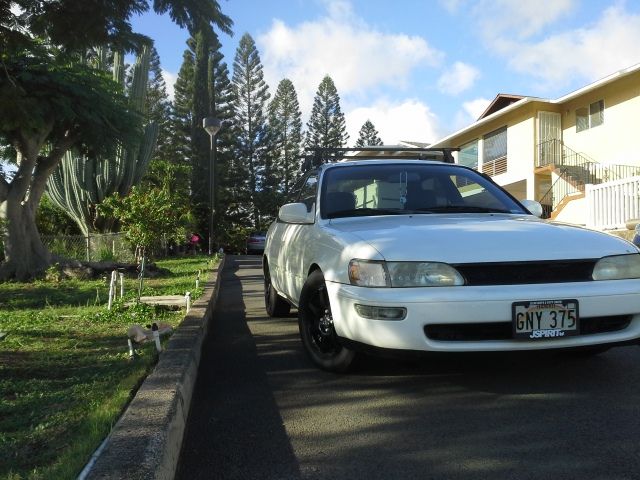 Sorry for the blurry picture it was taken before work.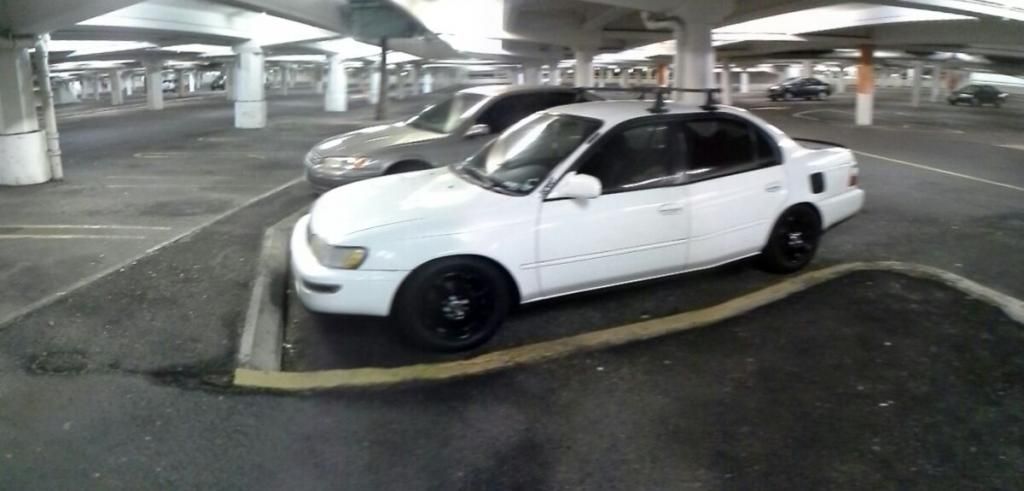 A couple days ago my car was sandwhiched.  We were stopped in traffic.  An older man behind me fell asleep or something.  He didnt brake on time and hit me in the back hard enough to push me into the SUV in front.  My car being lower dug into the rear of the SUV pushing in all my headlights in and my hood is all bent.  Will get my baby fixed hopefully as soon as possible so I can go to an upcoming corolla meet.  
I love this car, its my baby.  I love how simple it is.  What do you guys think?