This ladies and germs, is Miyuki. Miyuki is a 1993 Toyota Corolla wagon. (You probably noticed the wagon part).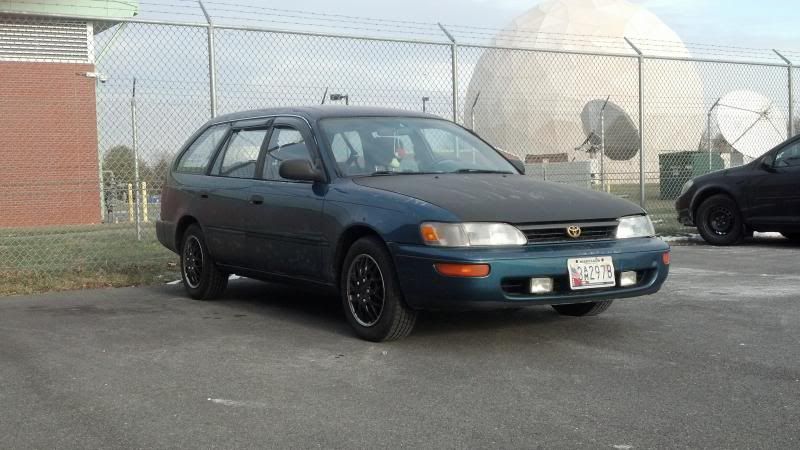 Miyuki represents a chase that has been nearly 14 years in the making, dating all the way back to 1997 and the purchase of my first automobile, a 1993 AE sedan. Now, I've always been a gearhead. Grew up around cars. I've been through a slew of them. However, something's always been in the back of my mind. I always wanted a wagon. Specifically a 101 era. For some reason, that chassis and myself just clicked. Now I currently own a 99 prizm with the 1zz, and it's a good car, but the 7th gen has always been the heart and soul for me, and moreso the wagons.
How I acquired her was a bit of random chance and luck. A while back, I had entered an agreement to purchase a 2004 Mazda6 from a friend of mine who was getting ready to trade it in on a new turbo Buick. I told him I'd give him trade in on it- I was looking to purchase it as a DD for my wife who had blown up her Cooper S due to an oil pump failure. However, this friends mother turned out to need wheels, and I graciously said she could take it, as family is far more important. I told him things have a way of working themselves out, and that it'd be ok. I had no idea at the time how right I was.
Fast forward about 6 months, and I get a random PM from another forum I frequent (I won't name names, but they're cool) from a guy who happened to own a 1993 wagon. APPARENTLY I had made a comment about a year ago indicating that I really liked his car. Seems like something I'd do, I love me some wagon. Anyhow, I had made the comment, and as luck would have it the wagon (named Miyuki by her then current owner, as she's a J-tag car, built in Japan and all) was for sale, and could be had for roughly one car payment. I salivated at the thought of purchasing it, but there was one small hitch. I'm in St. Paul MN. The car is in..... Hagerstown MD. That's about 1200 miles. I was crushed, as I figured there was no way I was going to make this happen. However, there was one wild card I didn't expect- my wife was on board with the whole plan of me getting it. What ALSO worked in my favor was I had essentially an infinite time frame to go pick it up AFTER purchase, as my parents have a large piece of property, and live on it- 20min north of Hagerstown in Chambersburg PA. How convenient! And none of this would be possible if I'd have purchased that Mazda6.
So the plan was hatched. I paypal'd my friend the $$$ for the car (because it's easy) and he drove the car to my parents place and left them a key. Right now, the title and the spare key are in transit to MY home in Minnesota. The REALLY cool thing is, we're a no inspection state. No one cares here. SO- they'll never see the car. I walk in to the DMV with the title signed, I walk out with new plates. I'll fedex the plates to my parents place (so I don't have to figure out if they'll confiscate plates at the airport) and fly out and pick her up, registration signed and sealed. No temp tags for me! On the way back, I'll stop at several friends places, hang out and drink beer. When I get home, the real fun begins.
Now what are my plans? Truthfully I have no idea. For some reason I have the idea stuck in my head to gold leaf parts of her, like on a motorcycle or old fire engine. A motor build may not be out of the question. Wheels and coilovers will happen, once I find something suitably random to stick under her. Probably some custom programmable LEDs because I'm fancy like that, and maybe custom projector headlights, because I have a guy that builds his own housings (and vacu-forming isn't THAT hard if you know what you're doing). Beyond who knows. She's an old girl in a slightly frumpy dress with a fat ass. I plan on tarting her up a bit and just generally having fun, because that's what life is all about.