Any fans of the Fuchs Titan Race engine oils out there? We expect so, as they're hugely popular in the world of race, rally and pretty much all aspects of high performance motorsports, it'd be difficult not to have come across them by now. Premium, ester based fully synthetic motor oils designed to meet the needs of the most demanding applications - and as luck would have have it, Opie Oils are offering
15% OFF
the range! This covers the Pro S 5w-30, 5w-40, 10w-50 and 10w-60, as well as the Pro R 10w-40 and 15w-50.
This offer is
now active
. You'll have to be quick though, it's running for a limited time only and is due to end mid day on Monday 19th! The discount code to use is:
TITAN15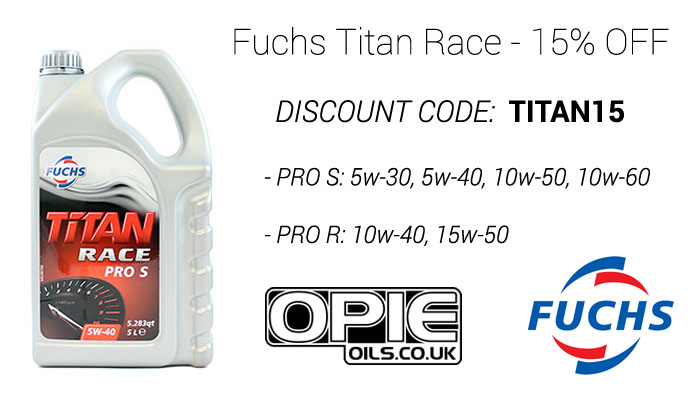 To get an idea of the savings to be made with this offer, lets take one of the most popular choices in this range as an example, the Fuchs Titan Race Pro S 5w-40. This premium product is usually £49.99 for 5 litres, however with this 15% discount, you can get your hands on it for just £42.49!
Below is a list of just some of the benefits to be gained from using these products over your every day oils:
- Enhanced anti-wear properties
- Outstanding temperature protection and cold start characteristics
- Suitable for use in turbocharged and normally aspirated diesel or petrol engines
- Increased fuel economy
- Reduced emissions
- Ester content creates surface-active layer, meaning a thin layer of oil on engine internals at all times
We've also got some really handy and in depth technical documents that further explain the merits of fully synthetic ester oils, why not have a look HERE. Perfect for a bit of bedtime reading!
If you need a bit of advice on choosing the perfect oil for your particular vehicle, give us a call on
01209 202 944
Monday to Friday, 8:30-5:30 or drop us an email to
sales@opieoils.co.uk
and we can provide a free bespoke recommendation for you.
That's all for now guys, and remember that code is
TITAN15
. Enjoy the weekend!
-Oilman